Posted on
02/17/2014 15:39
Treatspace announces Release 2.4.0.  This provides key features that power the world's most innovative enterprise health network.
New Features Include:

TreatMail™ (Beta):  Our messaging platform which delivers secure communications for your health networks.  After Treatspace users customize TreatMail settings, they can message other participating members (remember, not all members are participating yet) directly or communicate with a group of other participating contacts.  We even built in options for secure forwarding which allows routing of TreatMail to another Treatspace member.  This feature is accessible through your Treatspace dashboard once logged in.
TakingPatients™:  Secure appointment scheduling has arrived.  Practices, locations and providers can all turn on this secure and powerful new feature which allows patients to request an appointment for a specific provider at a specific time and indicate the reason they are submitting the request.  This feature is accessible to providers and practice administrators through the Treatspace app store once logged in.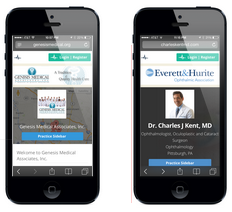 Enhanced Kudos:  We've made it even easier for you to tell your provider that they did a "great job."  Tell your provider thanks on Treatspace today! 
Mobile Friendly Profiles:  It's now easier to view Treatspace sites on a mobile device.  Whether you are using a desktop computer, an iPad or any mobile device, you will be treated to a beautiful view of your practice, location or provider's site.  And stay tuned....later this spring, we will be releasing phase two of our mobile friendly enhancements!
Practices, providers and locations who need support with these new features can contact their Treatspace representative.  
If you have any questions, please contact Treatspace at support@treatspace.com